Copen Grand EC @ Tengah Garden Walk is a new executive condominium by a JV of renowned developers Taurus Properties SG, a wholly-owned subsidiary of City Developments Limited and MCL Land. The upcoming Tengah estate of the wild west is soon to turn the tide with its Wakanda-like town features. It's probably going to be the most futuristic town in Singapore yet, with plans for autonomous vehicles and smart homes to become the norm. And all that set in between plots of forest that has been strategically landscaped to keep the temperature down.
A forest fringe will be built around Tengah so you can easily be one with nature and enjoy an instant mood boost every time you look out your window. The sprouting greenery from the corners of the town will snake its way across in the form of a forest corridor that's 100m wide and 5km long. At the end, it'll lead you to a path connecting to other green parts of Singapore including the Central Catchment Nature Reserve and Macritchie Reservoir Park, home to the iconic TreeTop Walk.
In terms of accessibility, Tengah will be connected to the rest of Singapore with a new MRT line – the Jurong Region Line. It will have a whopping 24 stations to serve the area of Jurong but most importantly, Copen Grand EC @ Tengah Garden Walk residents will have 3 MRT stations in nearby proximity to call their own.
Copen Grand EC @ Tengah Garden Walk will likely develop around 620 residential units in total with generous landscaping. These units will be spread across 12 blocks of up to 14 storeys each. Proposed future developments in the vicinity include a bus interchange, sports centre, community club and a polyclinic. In addition, there are 12 plots of land zoned for education institutions within Tengah, and all are within 2km of the EC site. Existing primary schools within a 2km radius include Shuqun Primary School and Princess Elizabeth Primary School.
In a bid to be more eco friendly, Tengah is built in such a way that walking and cycling your way around town will be more convenient. Instead of roads, you'll find plenty of pavements and cycling tracks to lead you from your homes to the shops or MRT stations.
Here's a plus point: having roads and these carbon-emitting machines underground also means more green spaces above ground to inch towards eco-living. Hopefully this will be the start to a more car-lite society.
While Tengah offers plenty of amenities and activities to do within the estate itself, the area is surrounded by other estates that are already thriving with an endless list of things to do. If you hop on a bus, it'll take you only 10 minutes to get to Jurong East where there's a shopping hub of 4 malls – you won't have to travel all the way to Orchard for your food and shopping fix!
At Copen Grand EC @ Tengah Garden Walk, enjoy a brand new quality lifestyle in a tranquil yet gain first mover advantage in a yet to mature estate.
Highlights
Located in a up and coming most futuristic town in Singapore yet, with plans for autonomous vehicles and smart homes to become the norm.
Located 3 upcoming MRT stations for ease of commuting.
Easily accessible to islandwide via KJE, BKE, PIE.
Lush green and forest themed eco friendly township planned out
First mover advantage as the first EC to be built in Tengah
Factsheet
| | |
| --- | --- |
| Developer | JV CDL & MCL |
| Tenure | Leasehold 99-years |
| District | 23 |
| Address | Tengah Garden Walk |
| Nearest MRT(s) | Tengah Plantation MRT |
| Site Area | Est 237,029 |
| Est. TOP | TBA |
| Total Units | est 620 |
| Unit Types | TBA |
| No. of Storey | Est 14 Storeys Residential Units |
| Buyer Eligibility | Singaporean |
| Payment Scheme | Normal Progressive and Deferred Payment |
Location Map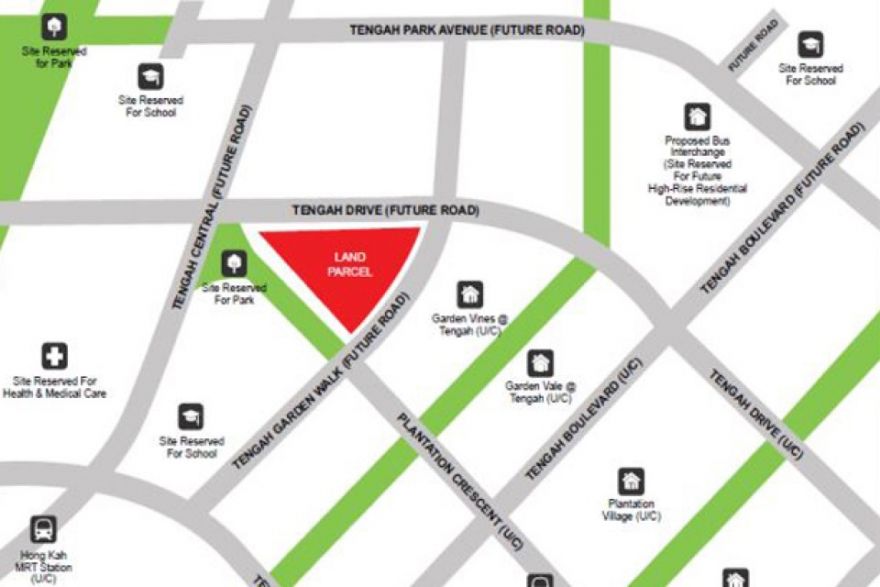 Verify Eligibility
VERIFY YOUR ELIGIBILITY
These are the questions that you have to ask yourself to determine whether you are eligible to purchase an Executive Condominium (EC) or not.  Please spend some time to review each question and answer to the best of your knowledge.
Q1
Are you a Singaporean Citizen (SC) or Singapore Permanent Resident (SPR)?
(A) YES – Your family nucleus has 2SC or 1SC+1SPR
(B) NO – You are not eligible to purchase EC
Q2
What is your total household gross income?
(A) Less than S$16,000 – Proceed to Q3
(B) More than S$16,000 – You are not eligible to purchase EC
Q3
Have you bought directly from HDB more than once or taken any grant from HDB?
(A) NO – Proceed to Q4
(B) YES – Bought twice from HDB or Taken grant and bought once from HDB
Q4
Do you currently own any private properties?
(A) NO – Proceed to Q5
(B) YES – You are not eligible to purchase EC
Q5
If you had previously owned any private properties, did you sell your private properties within the last 30 months?
(A) NO – Proceed to Q6
(B) YES – You are not eligible to purchase EC
You are eligible to purchase an EC only if you have answered (A) to all five questions above.  You will not be eligible if you had answered (B) for any of these five questions.  Please contact me to confirm your eligibility if you are unable to answer any of these questions.  I will be glad to help you confirm your status.
Q6
Which scheme will you be using to purchase the EC?
(A) Public (family) scheme (min 1 SC + 1 SPR)
(B) Fiance/Fiancee scheme (min 1 SC + 1 SPR)
(C) Orphan scheme (min 1 SC + 1 SPR)
(D) Joint Singles scheme (both must be SC)
Note: Take note of the citizenship criterias listed in all four options above.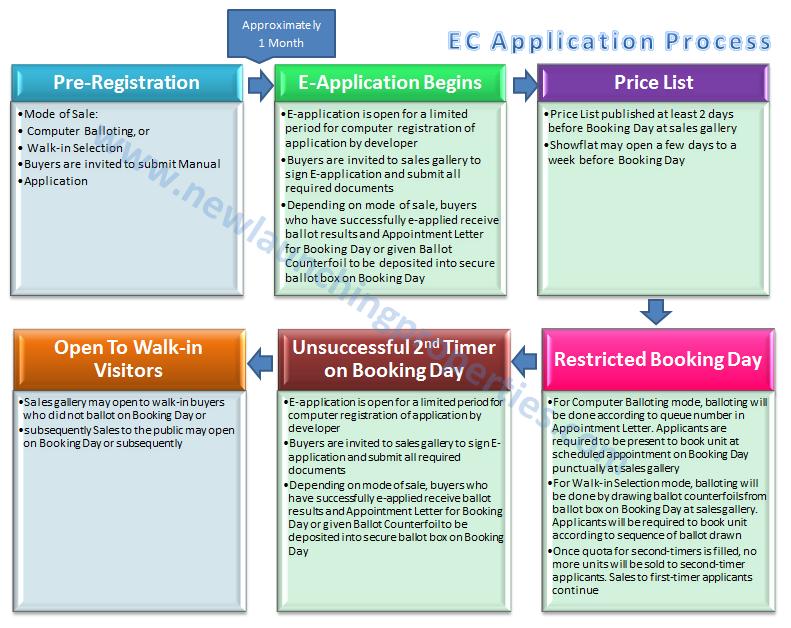 *PENDING FINAL SALES APPROVAL*
*SEEKING INDICATION OF INTERESTS*
*REGISTER FOR EARLY INFORMATION*