[slideshow_deploy id='579′]
Scheduled to launch in Mid July, Lush Acres EC is a luxurious executive condominium by City Developments Limited (CDL). It is located at the junction of Seng Kang West Way and Fernvale link. With a total of 380 units, there is a good mix of unit types that suits most families. Surrounded by Lush greenery, Lush Acres is a short drive to Jalan Kayu and a short walk away from the Layar LRT station which brings them to Sengkang Town Central.
Being the first EC project to be launched in the heart of Fernvale, Residents can look forward to the upcoming Seletar Mall which comprises of 6 shopping levels including 2 basement levels. Key anchor tenants includes a Cineplex at level four, a food court with a wide array of local delights at level three, exciting anchor retail shops at levels one to three and a good-sized supermarket at basement two.
Connected by Major Expressway, Residents of Lush Acres is never too far away from most destinations.
Parents will also be pleased to know that Lush Acres EC is surrounded by a good mix of school including Chatsworth International School, Fernvale Primary, Nan Chiau Primary, upcoming Springdale Primary, Pei Hwa Sec and Nan Chiau High. With schools at close proximity, young children will save on the hassle of rushing to school in the wee hours of morning and conserve enough energy for the rest of the day in school.
[wptab name='Highlights']
3 mins walk to Layar LRT STation
5 mins walk to Fernvale Point & Upcoming Seletar Mall (open Dec 2014)
5 mins drive to Greenwich Shopping Mall / Compasspoint
10 mins walk to Sengkang Sport Complex
Near Nan Chiau Primary & High School
Good Rental Yield with close proximity to Seletar Aerospace Park & Sengkang High Tech Wafer Fabrication Park
[/wptab]
[wptab name='Fact Sheet']
| | |
| --- | --- |
| Development Type: | Executive Condominium |
| Developer: | Verspring Properties Pte Ltd (Subsidiary of CDL) |
| District: | 19 |
| Address: | 1, 3, 5, 7 Fernvale Close |
| Tenure: | 99 Years Lease Hold w.e.f 13 Feb 2013 |
| Site Area: | Approximate 151,781 sq ft |
| Indicative Price: | TBC |
| Total No. of Blocks: | 4 |
| Total No. of Storey: | 3 blocks of 25 storey and 1 block of 22 storey |
| Total No. of Units: | 380 |
| No. of Car Park Lots: | Basement Carpark – Minimum 380 Lots excluding 4 Handicapped and 4 Electric Cars Lots |
| Expected TOP: | 11 Nov 2016 |
[/wptab]
[wptab name='Schematic Diagram']
[/wptab]
[wptab name='Site Location']
[/wptab]
[wptab name='Verify Your Eligibility']
VERIFY YOUR ELIGIBILITY
These are the questions that you have to ask yourself to determine whether you are eligible to purchase an Executive Condominium (EC) or not.  Please spend some time to review each question and answer to the best of your knowledge.
Q1
Are you a Singaporean Citizen (SC) or Singapore Permanent Resident (SPR)?
(A) YES – Your family nucleus has 2SC or 1SC+1SPR
(B) NO – You are not eligible to purchase EC
Q2
What is your total household gross income?
(A) Less than S$12,000 – Proceed to Q3
(B) More than S$12,000 – You are not eligible to purchase EC
Q3
Have you bought directly from HDB more than once or taken any grant from HDB?
(A) NO – Proceed to Q4
(B) YES – Bought twice from HDB or Taken grant and bought once from HDB
Q4
Do you currently own any private properties?
(A) NO – Proceed to Q5
(B) YES – You are not eligible to purchase EC
Q5
If you had previously owned any private properties, did you sell your private properties within the last 30 months?
(A) NO – Proceed to Q6
(B) YES – You are not eligible to purchase EC
You are eligible to purchase an EC only if you have answered (A) to all five questions above.  You will not be eligible if you had answered (B) for any of these five questions.  Please contact me to confirm your eligibility if you are unable to answer any of these questions.  I will be glad to help you confirm your status.
Q6
Which scheme will you be using to purchase the EC?
(A) Public (family) scheme (min 1 SC + 1 SPR)
(B) Fiance/Fiancee scheme (min 1 SC + 1 SPR)
(C) Orphan scheme (min 1 SC + 1 SPR)
(D) Joint Singles scheme (both must be SC)
Note: Take note of the citizenship criterias listed in all four options above.
[/wptab]
[end_wptabset]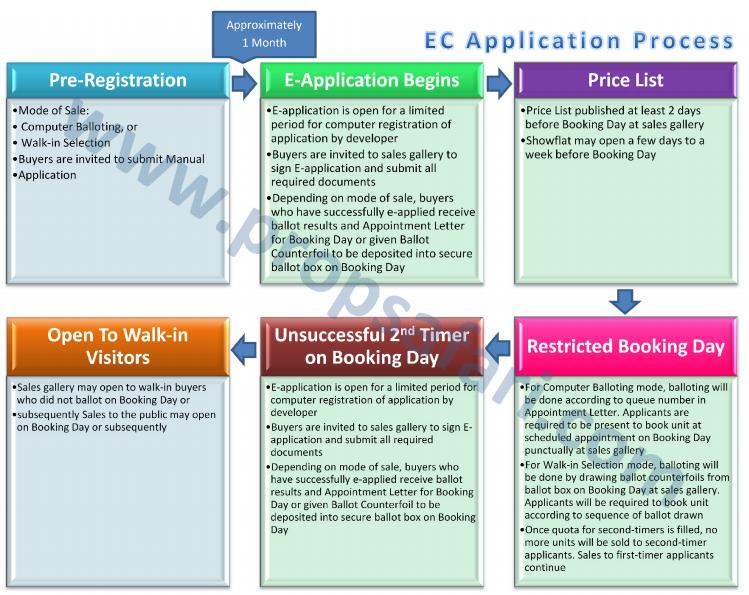 Marketed by
Seeking Indication of Interest (Pending Approval For Sale)