New EC @ Fernvale Lane is a new executive condominium by renowned developer Fraser Property Unit FCL Lodge. New EC @ Fernvale Lane is located in an established HDB estate which provides a catchment of potential buyers for this future EC project, and is near amenities such as Greenwich  V Mall, Jalan Kayu, Seletar Mall and upcoming Fernvale integrated community facility that will house a childcare centre, hawker centre & wet market.
Greenwich V Mall which directly opposite the project has a Cold Storage Supermarket, food court, a clinic and a good variety of dining options and a few enrichment/childcare centres.
While there's no MRT station at the doorstep, getting to one is a straightforward affair. Apart from via Fernvale LRT, there's a well-served bus stop right outside the condo along Yio Chu Kang Road, where Bus number 70 take residents to Serangoon MRT station (and NEX mall) in 20 minutes. Yio Chu Kang MRT station is 18 minutes away on the same bus.
Once residents get to Serangoon MRT station, it's another half an hour to the CBD. Not too shabby a travel time at all. There are also two primary schools within a 1km radius, one of which (Fernvale Primary School) is a five-minute walk away.
In terms of accessibility for drivers, New EC @ Fernvale Lane is strategically located nearby CTE,TPE & KPE within minutes drive away,
Also, New EC @ Fernvale Lane will likely rise to a height of 15 storeys. Surrounding developements (or the lack thereof) gives the location an unhurried, laid-back vibe that is unlike condos elsewhere in the bustling town of Sengkang. To the south of it is the low-rise, predominantly landed Seletar Hills Estate. To the west of the plot sits mostly undeveloped land, which is now home to some fish farms and a seafood market.
Additionally, the Urban Redevelopment Authority (URA) has planned for a small park right next to New EC @ Fernvale Lane. Residents will also be not far from Sungei Punggol, a lush natural river that's home to a wetland and mangrove habitat leading to the popular Waterway @ Punggol.
At New EC @ Fernvale Lane, enjoy a brand new quality lifestyle in a tranquil yet maturing estate.
Highlights
Located in a matured estate with amenities such as Greenwich V Mall, Jalan Kayu, Se;etar Mall etc.
Located near Fernvale LRT and along Yio Chu Kang Rd where there are a lot of buses to alternative locations.
Easily accessible to islandwide via TPE, KPE and CTE.
Near landed enclave and having great unblocked views
Factsheet
| | |
| --- | --- |
| Developer | Fraser Property Unit FCL Lodge |
| Tenure | Leasehold 99-years |
| District | 28 |
| Address | Fernvale Lane |
| Nearest MRT(s) | Sengkang MRT |
| Site Area | Est 17,129.9 m2 |
| Est. TOP | TBA |
| Total Units | est 480 |
| Unit Types | 2/3/4/5BR |
| No. of Storey | Est 15 Storeys Residential Units |
| Buyer Eligibility | Singaporean |
| Payment Scheme | Normal Progressive and Deferred Payment |
Location Map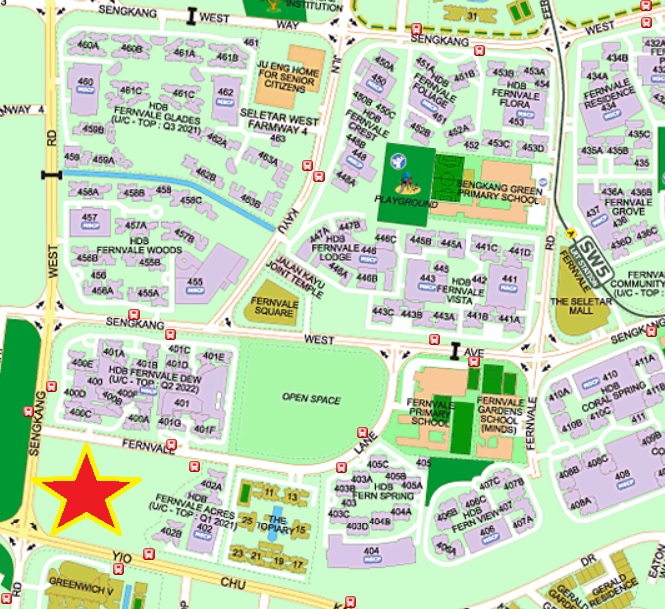 Verify Eligibility
VERIFY YOUR ELIGIBILITY
These are the questions that you have to ask yourself to determine whether you are eligible to purchase an Executive Condominium (EC) or not.  Please spend some time to review each question and answer to the best of your knowledge.
Q1
Are you a Singaporean Citizen (SC) or Singapore Permanent Resident (SPR)?
(A) YES – Your family nucleus has 2SC or 1SC+1SPR
(B) NO – You are not eligible to purchase EC
Q2
What is your total household gross income?
(A) Less than S$16,000 – Proceed to Q3
(B) More than S$16,000 – You are not eligible to purchase EC
Q3
Have you bought directly from HDB more than once or taken any grant from HDB?
(A) NO – Proceed to Q4
(B) YES – Bought twice from HDB or Taken grant and bought once from HDB
Q4
Do you currently own any private properties?
(A) NO – Proceed to Q5
(B) YES – You are not eligible to purchase EC
Q5
If you had previously owned any private properties, did you sell your private properties within the last 30 months?
(A) NO – Proceed to Q6
(B) YES – You are not eligible to purchase EC
You are eligible to purchase an EC only if you have answered (A) to all five questions above.  You will not be eligible if you had answered (B) for any of these five questions.  Please contact me to confirm your eligibility if you are unable to answer any of these questions.  I will be glad to help you confirm your status.
Q6
Which scheme will you be using to purchase the EC?
(A) Public (family) scheme (min 1 SC + 1 SPR)
(B) Fiance/Fiancee scheme (min 1 SC + 1 SPR)
(C) Orphan scheme (min 1 SC + 1 SPR)
(D) Joint Singles scheme (both must be SC)
Note: Take note of the citizenship criterias listed in all four options above.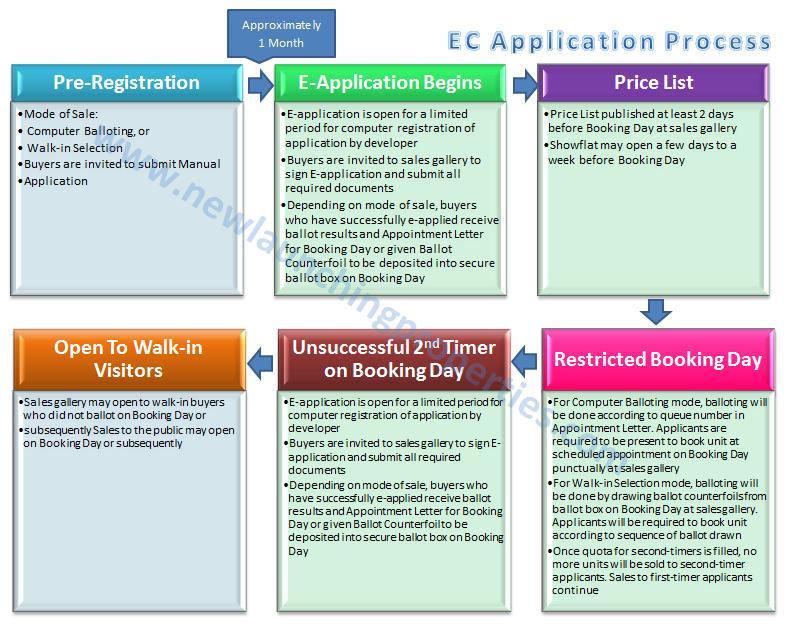 *PENDING FINAL SALES APPROVAL*
*SEEKING INDICATION OF INTERESTS*
*REGISTER FOR EARLY INFORMATION*